Guest blog by Steven Burritt, Regional Executive Director of MADD
As we approach the holidays and the many opportunities to attend holiday parties, it is important to remember that if you might drink, you should plan ahead by  who does not intend to consume alcohol. No one knows more about the importance of designated drivers than Steven Burritt with Mothers Against Drunk Driving (MADD) of South Carolina. Continue reading the following interview with Mr. Burritt to learn more about his role with MADD and how you can support MADD's mission to end impaired driving.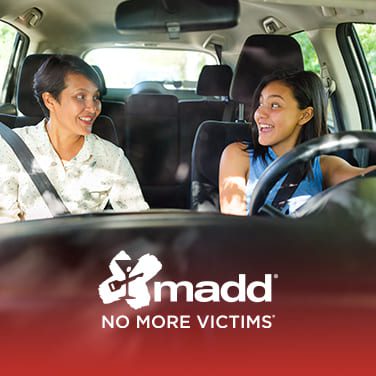 Introduce yourself and your professional role.
I'm Steven Burritt, Regional Executive Director for Mothers Against Drunk Driving in South Carolina and North Carolina. I've been with MADD since 2013, after 10+ years of working in the South Carolina prevention system.  
What is the Tie One On For Safety campaign?
Founded in 1986, Tie One On for Safety (TOOFS) is MADD's longest-running public awareness project, using the red ribbon as a visible reminder to designate a sober, non-drinking driver.
TOOFS kicks off at Thanksgiving and continues until New Year's Day, a season when vehicle crashes are at their highest. TOOFS celebrates the cultural impact MADD and other impaired driving prevention efforts have had by elevating the concept of a "designated driver" (a phrase introduced into the world by MADD) into everyday conversations and behavior. In addition, now more than ever, MADD calls upon the general public to spread this lifesaving message of safety at a time when traffic deaths are rising to historical levels due to dangerous driving behaviors such as impaired driving and speeding.
MADD reminds everyone to stay safe, plan ahead and make the right choice to designate a driver (including ride shares).
Why is it important that people know about Tie One On For Safety? 
While drunk driving deaths are down by half since MADD's founding in 1980, the last couple of years has seen disturbing increases, especially in South Carolina. 2021 was the worst year for overall traffic fatalities in the history of South Carolina, and 2022 is looking to be the second worst. 
A drunk driver likely caused almost one in three of those deaths. In recent years, South Carolina has had the 10th most drunk driving deaths in the nation despite being 23rd in population. However, every single drunk driving crash is 100% preventable!
What can people do to help eliminate drunk and drugged driving?
Make a plan. 
Designate a driver. Only leave your home with your car if your plans involve alcohol (then you can't drive it home).  
This year, we also have a way for restaurants to get involved. December 11th through 17th is the first ever South Carolina Designated Driver Appreciation Week (officially proclaimed by the Governor's Office!) Presented by the Law Office of Kenneth Berger (#DDAWSC22), restaurants can get involved by taking care of their designated driver customers, like making their nonalcoholic drinks complimentary or even creating a tasty new "mocktail" for those not drinking alcohol. They can contact us at sc.state@madd.org for more information.
What resources are available for people who want to learn more about Tie One On For Safety or drunk and drugged driving?  
Our website is https://madd.org/south-carolina, and our Facebook page is @MADDSouthCarolina. 
How can people get involved with MADD? Are there any upcoming events they should be aware of?
MADD is a volunteer-driven organization. There are many ways to get involved, including during the Tie One On For Safety season. You could spread the word about Designated Driver Appreciation Week to local restaurants or help us get our TOOFS red ribbons out in your area. During the rest of the year, we have Walk Like MADD events. Save the date of April 22nd (tentative) for the 10th Annual Walk Like MADD Columbia!